Our Process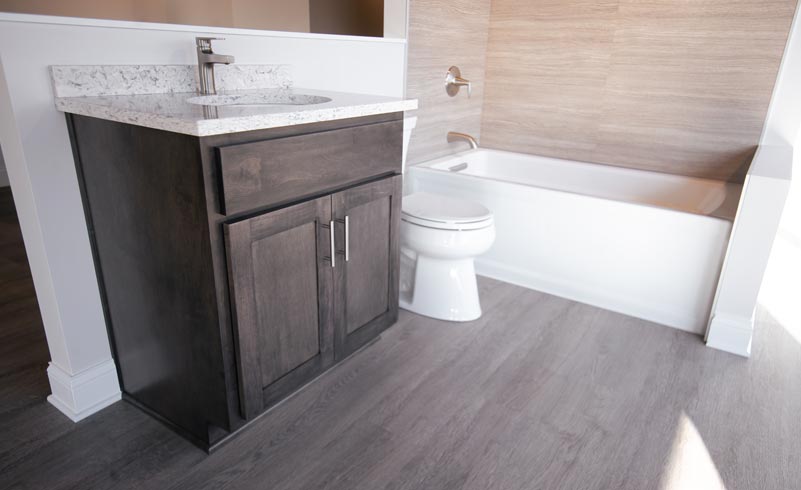 Chicago 5-Day Bathroom Company
Has your bathtub seen better days? At The Bath Center, we offer professional bathtub replacement services as a part of our comprehensive five-day bathroom remodel.
With our local Chicagoland bathroom remodelers on your side, you can enjoy full-service care that leaves you with the bathroom of your dreams. Here's what you can expect when you work with our team on your upcoming five-day bathroom renovation.
Learn More
Get Free Quote
Professional Five-Day Bathroom Remodels
When you work with The Bath Center, you're not just working with bathtub contractors or shower installers! We're full-service bathroom remodelers, and we can completely overhaul your space and bring you a brand-new bathroom in just five short days!
Your bath remodeling needs are in good hands with our five-day bathtub replacement or shower replacement service! We look after everything—including bath or shower, flooring, vanity, mirror, toilet, plumbing, and more. No matter your vision for your space, you can count on our local experts to bring it to life in no time.
Get Free Quote
Superior Products
At The Bath Center, we take pride in offering high-quality products that look amazing and are built to withstand years of daily use without deteriorating.
Local Chicago Remodelers
As a Northwest Chicago five-day bathroom remodeling company, we know how best to serve local homes, and we're committed to improving our community one project at a time!
Top-to-Bottom Remodels
Instead of focusing on just one aspect of your bathroom, we tackle every aspect of your project. With our team on your side, you can completely transform your space.
Complimentary Estimates
Before any remodeling begins, our bathroom remodelers will come to your home to draw up a plan for your project, including a free project estimate.
Limited Time Offers
Explore Our Past Work Here
Check out some examples of the work we've done for homeowners near you!
View More